!!!!! HAPPY 5th BIRTHDAY TIMMY !!!!!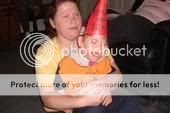 It is raining today. Yuck! I was so hoping that today would be warm and sunny, so that you could go outside to swing. You enjoy swinging so much. You also like to go on walks around the neighborhood, while being pushed in your KidKart (stroller). You really enjoy listening to the many different sounds, especially the different birds and the barking dogs. I just love to watch your face light up with the biggest and cutest smile, when you hear a familiar sound. I love to hear you laugh. Your laughter is so contageous. When you start to laugh, you first snicker, followed by a few giggles and then a full belly laugh. It is so cute and like sweet music to hear.

There are only three things that come to mind that you dislike. The blowing wind, peaches and the nursery rhyme song "Pop Goes The Weasel." I can agree, peaches are yuck!

We spent the day at home, except for the short trip to Wal-Mart to buy you a birthday present and to order your birthday cake. We plan to have your party on November 8th. This is the date that was the most convient for all of your guest.

Brother Zahary just couldn't wait, so he went ahead and gave you your birthday present from him. Zach bought you a vibrating poodle and a teddy bear. He also gave you a huge banner HAPPY BIRTHDAY card.

Nurse Wendy also gavve you one of the presents that she bought for you. It was a Farmer Says toy. You just LOVE the sound that a cow makes. Moo makes you smile and laugh. This is one of the animal sounds that we are sure that you know and recognize, even when it is within a story that is being read to you.

You also received a birthday card from grandma Gaeth and Uncle Earl. They sent you some money for your birthday. Being that you really enjoy finger painting, maybe you should spend the money on more finger paints and paper?

It is bedtime. Time for nite nite kisses.....

I LOVE YOU Timmy!!!!! Happy Birthday!!!!!!